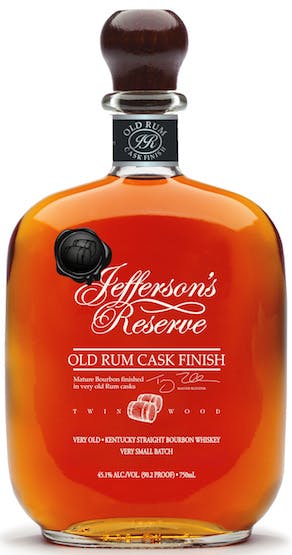 SKU: 20157
Jefferson's Reserve Old Rum Cask Finish Bourbon
---
---
Appearance: Shiny toasted almond.

Nose: There's no pepper or heat in the nose at all. It's definitely got that sugary rummy quality. Caramelized sugar, butter, fresh crusty bread.

Palate: Flavor-forward at the start with marshmallow and fondant, but that dissipates fairly quickly. So very smooth. It tastes like drinking a very fine rum, and not a whiskey. Some may turn their noses up at this, but I don't. It's likely not a whiskey you're going to make a drink out of—but at this price point, only spendthrifts would. But it's certainly worth your time. The sweetness isn't overpowering, and there is still that savory note the whiskey brings. It really is a nice mix between the chew of good bourbon and the delicacy of a not-too-sweet dessert wine.