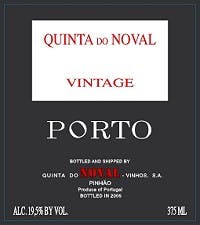 SKU: 19712
Quinta do Noval Vintage Port 2013
---
---
Wine Advocate 94 points - The 2012 Vintage Port was bottled in July of 2014. A blend of 70% Touriga Nacional, 25% Touriga Franca; 5% Tinto Cao, it was aged for 18 months in wood and comes in at 102.5 grams per liter of residual sugar. This is going to be a sentimental favorite for a lot of consumers, although few will call it truly great. A big mouthful on first taste compared to most 2012s, it assaults the palate with delectable fruit. It's not only tasty, though - it is astonishingly fresh and lifted, a creature of this vintage. Beautifully balanced and never seeming heavy, it manages to project power and grip on the finish while not searing the palate with tannins - relatively speaking, of course. (This IS young Port.) Tasted next to a group of other 2012 Ports, this wasn't particularly more concentrated, but it was more expressive, better balanced and more vibrant. Coming back to it the next day showed what it does best: being rather invigorating and sometimes downright exciting in its freshness. The fruit finishes with crispness and vibrancy. It is exactly the profile I would expect from a good performance in a vintage like 2012 - a year that favored fresh, elegant wines with good acidity rather than deep and rich powerhouses. By Day 4, it was sensationally delicious, but certainly not the most powerful or concentrated Noval ever - and it had fleshed out a bit even so. By Day 5, it seemed like ready-to-roll, drink-me-now Port. You'd still be well-advised to cellar it a bit.

Cellar Selection. Noval has often in the past released a Vintage Port in years when other producers hold back. And, as in the past, the release is justified. For this is an impressive, dense and seriously age worthy Port. While it has plenty of perfumed jammy red fruits and balanced acidity, it is the dark tannic character that will sustain this wine for decades. It could be drunk now for its fruit, although that would be a shame. Better to wait until 2030 and longer.
Powerful and rich, with deep flavors of crushed red plum, dark cherry and dried raspberry, featuring a shading of graphite and smoke. Presents luscious spicy details on the finish. Drink now through 2045. 250 cases imported.